Thank you for your interest in our 2023 Farm Delivery Program!

Below is some information regarding the program and our service. If you would like to be a part of the program, please fill out the registration and then purchase the membership to claim your spot!
How this program works:
This program has a single upfront membership fee of $45. This is to help with the logistics of shipping and packaging everyone's produce boxes. There are no weekly delivery fees or price premiums due to your weekly delivery.
Each week starting the first of June until the end of November you get to place an order for fresh produce to be delivered that week. The best thing about this is that you get to choose what items you want!
The only requirement for ordering is that when you place your weekly order, it must be a MINIMUM of $15 (unless otherwise specified). You have the option of customization each week or have the option to skip a week if you feel so. The other option we offer is farmer's choice -- we choose the produce for you! Great way to venture out and try new things.
Breakdown of the program...
1. Register and then purchase a 2023 Membership! 
2. Watch the calendar closely until June...check emails periodically for updates.
3. June arrives -- first order will be placed the last week of May!
4. Produce arrives at your door, delicious and nutritious.
5. Keep on ordering, we will deliver to your door every week! Need to skip a week? No big deal, we know life happens, vacations happen, we will be happy to pause your delivery and see you the following week.
6. Enjoy a wonderful season full of Nature's Bounty!
Please know, if there is ever an issue we are more than willing to accommodate our members. Our main goal is to make this a great experience for everyone. Don't hesitate to contact us with any questions or concerns you may have at any point in time during the program.
New to the 2023 season!
We hope to have a new, custom-designed website for this program up and running this season, this may be delayed as we tend to be perfectionists and want it to be totally bug free before we implement. We have also expanded our team and will have an individual solely focused on customer service and problem resolution. As farmers we often find ourselves consumed with seasonal responsibilities and we want to ensure that every member inquiry is handled in a timely manner. We are constantly working with new crops and looking for quality additions to our offerings.... some items that we are working to include this year include fresh herbs,  fresh mushrooms and Popcorn.
Referral Program:
As always we greatly rely on word of mouth to grow our business. We truly appreciate everyone's support in this and we wish to give credit where credit is due. You can refer friends/neighbors and receive a $10 credit for each referral that turns into a new member! This credit is to be applied during the season. Please keep in mind, we are working on expanding, but have limits on our delivery zone; referrals must be in our delivery zones.

Thank you for your interest in our delivery program, family, and farm!
Getting To Know Us
Hello! My name is Chad Fusilier. Thank You for your interest in our Produce Delivery Program.
We are proud to be fifth and sixth generation Fusilier's farming this great land. My parents Mike and Kathy, manage the home farm with the help of their four children and spouses. The home farm is 220 acres at the edge of the Irish Hills in Manchester, Michigan.
Most of our farm is devoted, and planted with, the highest quality produce that we proudly offer to you. In addition to our produce we have a large selection of flowers and other decorative plants. We connect with our customers through several venues including multiple local farmer's markets, our two farm stores open daily, this Delivery Program, and a CSA (Community Supported Agriculture) program.
You could say we are busy, but there is nothing that would make us happier than to share the joy of fresh produce with you. We are proud to be farmers and we hope to let you get to know us and our farm better. To see the whole list of markets we attend click on the "Farmer's Market and Stores" tab to learn more.
Between my farm and my parents farm we decided to venture into the online delivery of produce to increase the feasibility of bringing fresh produce to more local people and increase the sustainability of our operation. We started the delivery program back in 2018 and the first year delivered to 22 members. The next year, our membership grew to over 400 members and we are still growing today.
My family, myself, and the rest of the team here at Fusilier Family Farms are looking forward to an amazing 2023 season full of delicious fruits and vegetables!
Chad Fusilier
Availability Of Products
Please reference our availability chart below.
This does not include everything we grow, but it does have a decent overview of what we have to offer. We also have some non-produce items such as Zingerman's baked goods, beef, chicken, various jarred items, syrup, and honey.
Please keep in mind, we are a small family farm. Weather, pests, and various other reasons may cause a crop failure or have reduced yields. While we strive to do our best to ensure crops, Mother Nature is ultimately in control.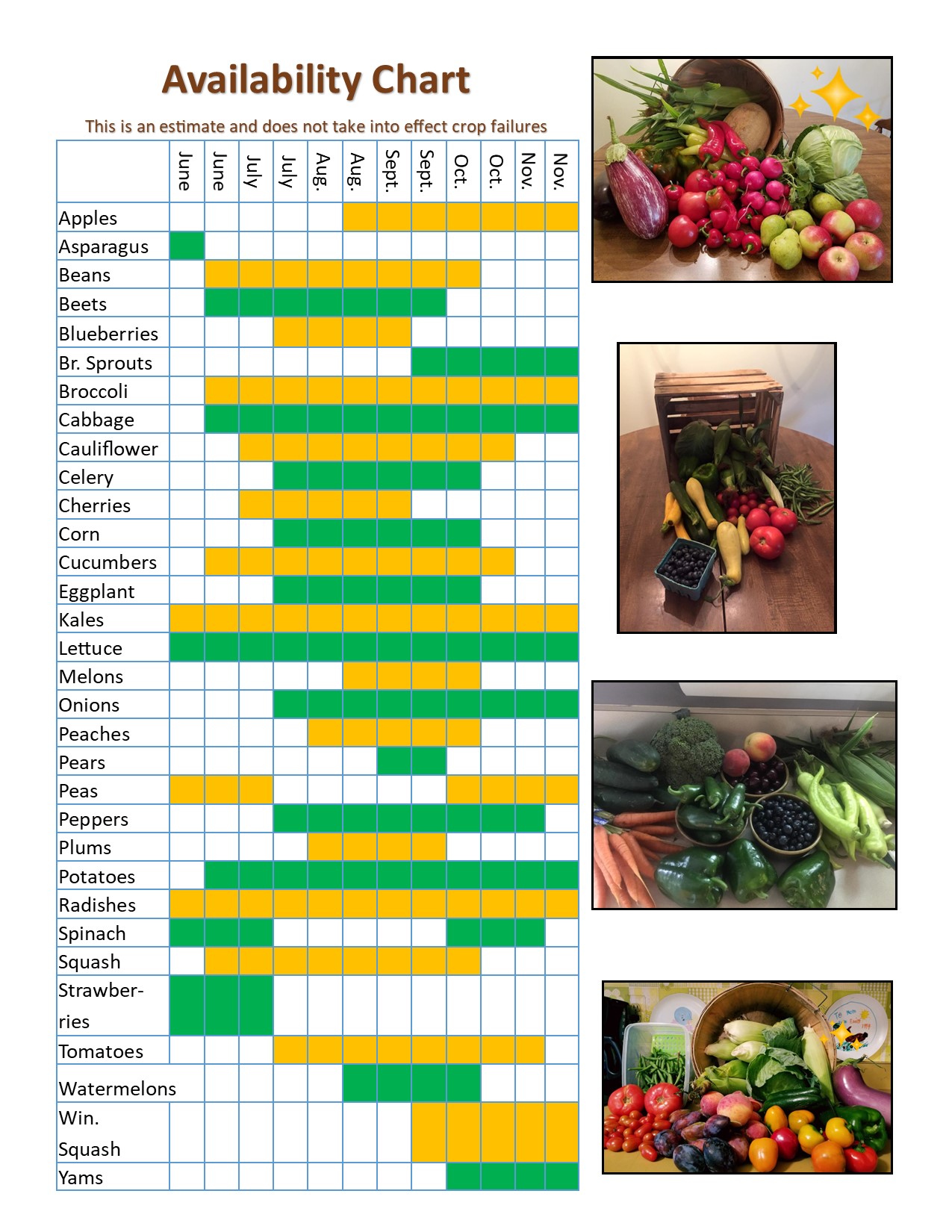 New this Year Business/Institution Large Group Drop-offs
New this year we plan on expanding our service to include large group drop-offs at businesses/institutions. If this doesn't interest you, feel free to skip over this section.
We are inviting those who work at or are affiliated with large businesses and institutions to help us share the benefits of fresh local produce. Or if you are an institution that has outside funding (grant or otherwise) to provide fresh produce to families, students, children, volunteers, employees, etc.
Based on location and number of memberships we can offer discounted registration fees and flexibility to your delivery. We can offer personal ordering services, exactly like the residential delivery program, or we can do large quantities of identical produce boxes to distribute.
A great example of an institutional delivery we have done in the past was a local early start program associated with the public schools. They received grant money from the government and asked us to provide 200 produce boxes at a preset value once a month for their families. We packed these and delivered to them each month with seasonal produce and from their feedback, everyone loved it!
Previous business drop-offs have been comprised of individual orders submitted by each registered member. We will make a drop-off and unload the boxes into your building for the members to pick up at their convenience.
Large group drop-offs need to be discussed before approval. All logistics need to be determined and finalized before we accept registration.
If this sounds like something your organization would be interested in please reach out to us at delivery@fusilierfamilyfarms.com
Membership Registration
This map is our projected delivery zone. If you live within or near the boundaries we WILL be able to service you for the 2023 season. If you live outside of the gray shape we may be able to service your area depending on how many people express interest and how far outside the zone they are.
Always feel free to contact us at delivery@fusilierfamilyfarms.com about questions about your locations or anything else!
Please zoom in on the map if needed. Or please
Click here
to view this on Google Maps. This is an estimate for our delivery zone for 2023.